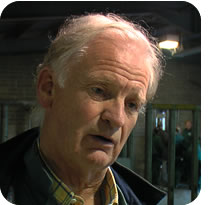 John Bainbridge
Veterinary Surgeon
Fabourite Animals
primates and the large cats
Time at Zoo
15 Years
How did you become vet?
I showed an interested in veterinary work from my early teens and was encouraged by my family and one particular local vet who took me under his wing and gave me a lot of practical experience with animals while I was in secondary school, then - professional course in TCD which had a vet school at that time. There were 11 people in my year.
How long have you been working in Dublin Zoo?:
15years
What section of Dublin Zoo do you work in?:
all sections
What kind of animals do you take care of?:
all
Which are your favourite animals in the Zoo?
No particular favourites. I am happy to treat them all alike – some would be upset otherwise. I probably prefer working with primates and the large cats.
Do you have any pets at home?
2 dogs. Terriers that come with me to work in my practice every day and accompany me on house visits. The only place they do not come to is Dublin Zoo
Can you tell us one of your most Exciting/Funniest/Most Memorable moments in the Zoo?
Exciting - anaesthetising Henry the hippopotamus when we were doing dental work on his overgrown tooth. Henry took exception to the darting – because he is so heavy, I had to shoot him with a few darts. Normally quiet, he tried to come over the gate to get at us. With his hugh mouth wide open and in a complete rage it was easy to see how hippos are Africas most dangerous animal.
Funnies: Operating on our largest male tiger out of doors and it started to rain. I finished the operation off with a keeper holding a brolly over me
What do you love most about your job?
Luckily, I have a job which I continue to enjoy. In particular, my work in Dublin Zoo allows me to work with a wide range of animals and all the challenges and satisfaction this brings. Here also I work alongside the passionately enthusiastic and friendly staff and totally supportive management.
What's the most difficult thing about your work?
In all areas of my work this has to be when we can not help an animal or when an animal dies when I do not expect it to. There is great disappointment at the loss of the animal and sadness at the upset and grief on the part of keepers who may have cared for the animal over many years.
One of the saddest moments I have experienced was to witness the loss felt by our hippo keeper at the death our female Hippo following the ingestion of a tennis ball thrown into her pool by a misguided zoo visitor.
How did you become a vet/zookeeper etc?
Becoming a zoo vet? Good fortune really – the job became available when I had the opportunity to apply for it and then put in quite a lot of learning time over the first few years which involved travelling to zoos all over the world during my holidays – Africa, Australia 3 times, New Zealand, Asia, USA twice, Europe to learn from other zoo vets. That was hard work but someone had to do it!
When you're not working in the zoo, what other hobbies or interests do you have?
I play a little golf and enjoy walking, reading and interacting with friends and family. I am involved in an administrative capacity with Peata – the Irish Organisation for Pets and People, which take a good deal of time.