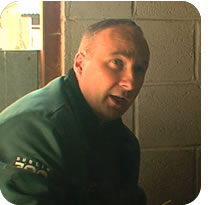 Eddie O'Brien
Team Leader- East Section
Fabourite Animals
Reptiles and Sealions
Time at Zoo
25 Years
How did you become a zookeeper?
As a young teenager I began as a volunteer, giving the keepers a hand in the city farm area and began working on the pony and trap as a driver going around the zoo with the public. I then got a position as a keeper and worked my way up through the years to become a team leader.
How long have you been working in Dublin Zoo?
25 years
What kind of animals do you take care of?
Reptiles, Birds, Sealions and city farm
Which are your favourite animals in the Zoo?
Reptiles and Sealions.
Do you have any pets at home?
I have a dog and a cat.
Can you tell us about one of your most memorable moments in the Zoo?
Recently a seal pup was born called Flo, but unfortunately her mother died suddenly of a heart problem before she had been weaned. She was unable to eat fish herself so we worked extremely hard as a team, teaching her to fend for herself and eat the fish. It was a slow but worthwhile process and it's fantastic to see her now with the rest of the sea lions.
What do you love most about your job?
I love that every day is different, the fantastic and unusual experiences that come with the job and having the ability to share these with the public.
What's the most difficult thing about your work?
I find it difficult when an animal passes away after you've worked with and cared for them for years.
When you're not working in the zoo, what other hobbies or interests do you have?
I love all kinds of sports, particularly scuba diving.